Do You Know The Most Important Key In Receiving healing?
Do You Know That God's Will For You Is Health?
"Healing Words" is a powerful CD that will not only encourage you, but it will be a great asset in helping you believe God's promises so you can receive healing!
Are You Tired Of Being Sick?
You Too Can Receive Healing From God!
"This Powerful CD Can Help You Receive Healing!"
The Bible says, "Beloved I wish above all things that you may prosper and be in health even as your soul prospers." The Bible also says, "He sent His Word and healed them."

As a matter of fact, the Bible is full of verses that demonstrate God's desire for His people to be healed!
On the "Healing Words" CD you will hear verse after verse after verse about healing. There is no commentary. No preaching. Just the Word of God!
Click the button below to listen to a sample

Date:
From: Michael A. Verdicchio
Author of "Healing From God Is Available"



Dear Believer:

If you, or, someone you know and love, is going through an illness, it is never an easy experience no matter how small of an illness one has.
Years ago my wife was diagnosed with an incurable disease, called Meniere's disease. The symptoms were extremely uncomfortable. The prognosis from the medical profession was that she would be deaf!
The Doctors Had Given Up Hope!
Her main Doctor at the time was one of the top 5 Doctors in the world. He told me that whoever came up for the cure her disease would probably get the Nobel Prize. After my wife was healed by God, I told him that the Nobel Prize should go to God!
During the time of her illness, my wife would spend time putting verses into her mind that pertained to healing. She was in fact planting seeds! It was the repetition of those powerful words from the Scriptures on healing that brought her to the point of accepting healing from God.
God's desire is for you to be healed! I produced this CD to help people who were going through an illness, small or great. Listening to "Healing Words" will remind you and encourage you that God's desire is for you to be healed.
A Powerful Presentation!
You will only hear me read Scripture verses on this CD. There is no commentary or preaching; it is just a powerful presentation of God's Word. As you listen to me read these verses on healing it will be a tremendous help to you in getting your mind to accept God's healing. Jesus told the man whose daughter had just died, "Fear not, only believe."
The Most Important Key!
Believing the promises of God is the most important key to receiving healing. Listening to "Healing Words" will help you to believe God's promise to you concerning healing.

Did you know that in the Bible…

In fact there are records that show both, a man healed who was about to die, as well as a number of people who were raised from the dead!

You Can Receive Too!
When it comes to healing from God, healing is absolutely not limited to your age, who you are, what "group" you are with, what sickness or illness you may have, or how long you have had it. With so many, many records in God's Word the message is clear - healing from God is available!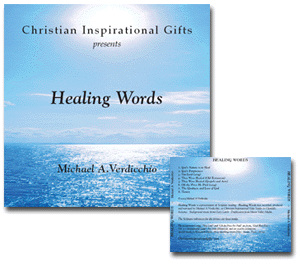 Here's what others are saying about the CD, "Healing Words"

From Dan in Colorado:

The "Healing Words" CD has been such a tremendous blessing to us. The Word that is spoken is so soothing, the music is pleasant to the ears and the voice of the narrator so resonant. It is easy to listen to. I put it on before the Bible fellowship we have in our home to welcome people. As they sit and listen they get calm and prepared to hear the Word.
From Sargon in Arizona:

This is awesome! God blessings upon your work.
From Regina in New Mexico:

I listened to the CD recently because I had a back injury and just needed to slow down...to settle and to think about God's love and desire to heal me. I was very blessed by the "sections" that are covered and the one that struck me the most was the part on praising God, being thankful because that is usually the last thing we want to do when we don't feel well! It was a gently reminder to get my eyes off of myself and onto the one who makes all things possible. I also appreciate that you handle sin consciousness. I don't think any of us ever would or could deserve healing so the focus can't be on our goodness/works/sin or the absence of it. Calvary covered it all...period!
From Joan in Colorado:

For me it is just a wonderful way to get peaceful whenever I put it on. Sometimes when I am not feeling my best, I put it on and before I know it I am better. "Healing Words" is indeed a healing balm!





"Healing Words" is a beautiful presentation of verses that pertain to healing and deliverance.


"Healing Words" is nearly one hour in length containing 8 tracks, 2 of which are instrumentals.


Since this presentation contains just the verses with no commentary and no scripture references, a list, track by track, of all scriptures references is contained in the insert.

It is my sincere desire and concern that "Healing Words"

will be a

great help

to those who need healing..



Order "Healing Words" TODAY!
Your CD will be shipped to you in 5 business days or less!
Healing is God's will for you right now, today! And, whether you buy my CD or not, that is what I also desire for your life. It is never an easy experience to be sick, no matter how small of an illness one has.

Believing the promises of God is the most important key to receiving healing. I absolutely believe that this CD can help you get to that point. You don't need this CD to get to that point, nor do you need this CD to get healed, but I believe with all my heart it can help you get there!

May God bless you and heal you in the name of Jesus Christ!

Michael A Verdicchio

---------------------------------------
Healing Words